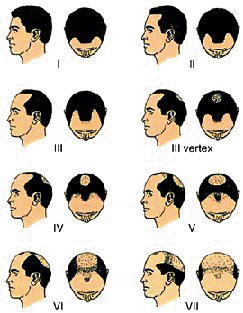 5 Categories of Hair Loss Patient
At Dermatology & Hair Restoration Specialists we preform a careful analysis on each individual hair loss patient and tailor the remedy or combination of remedies for the patient. We have had great success with helping patients restore their hair with medication, topical solutions, supplements, laser treatments, and transplant surgeries. Our consultations are treated as medical examinations so the remedy is best suited for the patient.
When it comes to hair loss, we usually see 5 different categories of hair loss patient:
1) No hair loss– There are those who do not have the hair loss gene and will always have a full head of hair. Often the men in this category are concerned because their hairline gets higher as with age. A man's hairline is often genetically programmed to raise or form more of a v shape. This could happen without any other hair loss. Men and women in this category should still take care of their hair but are less likely to have permanent hair loss.
Preventative measures- even though these patients do not have the hair loss gene, they should still take care of their hare by using products practices that are not too harsh. Unfortunately, our clinic sees too many patients that have damaged their hair heat or chemicals that sometimes can not be reversed.
2) Beginning stages of hair loss– There are those with the hair loss gene but have not lost enough hair to have a hair transplant. Now there are several options for these patients that were not available in the past. There are now topical solutions, supplements, and laser treatments that can stabilize hair and help patients avoid surgery all together.
Remedies– For this type of patient we have several options that work really well.
Laser therapy- Cappilus Laser Cap has proven to work to stabilize hair loss by dilating the blood vessels in the scalp. This ensures the hair follicles get the nutrients needed to stay healthy. This reverses the effect of hormones( such as DHT) that constricts the blood vessels that support hair. Patients who purchase a Laser cap have a better success rate because having a laser cap and the freedom to use it when it is convenient helps the patient be more compliant to recommended usage. Also, patients who use the laser cap are eligible for a 100% money back guarantee if the cap does not stabilize their hair loss after 6 months of use. Patients prefer the cap to taking medication because the cap may be used long after it is paid for where as medication requires continuous payment because you only benefit while using it. One of our patients expressed that he had been on finesteride for ten years which had cast over $7000. Once the patient got off of Finesteride, he started losing his hair again. That patient expressed that if he could go back in time and buy a laser cap, which is less than half the cost, he would without hesitation
Help Hair Shake- Dr. Larry Shapiro has been a successful hair transplant surgeon for the past 26 years. He has spent years researching and developing this shake for optimal hair growth. We have been impressed with the results that the shake has produced. We have had transplant patients who are taking the shake have accelerated growth. In just four months, patients using the shake often have growth that without the shake usually takes a year. We are big fans of the shake because of the results it consistently produces.
Medication-Finesteride for men and Spironalactone for women are medications that have worked really well for our patients. Those medications do not work for everyone and more and more patients these days do not want to take medication due to possible side effects. For the patient that does not want to take medication there are other remedies that have worked as well.
Patients with the beginning stages of hairloss should have a consultation to learn details of all options available.
3) Patients with significant hair loss  These patients have the hair loss gene and have lost hair from the top of the scalp (not the back or sides).These patients are usually transplant candidates and should have a free consultation to confirm if they are a candidate and learn the specifics of each type of hair transplant (F.U.E. or strip)
4) Patients with generalized thinning. This means that the patient has lost hair from their entire scalp-top, back and sides. These patients are not candidates for hair transplant surgery. Some supplements or medication may help these patients stabilize their hair loss but usually hair transplants will not be permanent or the transplanted hair will not grow.
5) Miscellaneous hair loss. These are patients who have hair loss due to bad products, bad practices like exposeing their hair to too much heat, smoking, poor diet, or pulling ponytails to tight. This could also include hair loss caused by medical treatments, stress, auto immune issues like alopecia arietta.
For a free consultation with Dr. Sean Behnam please call 310-829-4291